Blu-ray&DVD is available!
VOCALOID Opera AOI with Bunraku Puppets, Discs
- approximately 34 minutes
- subtitles:Japanese/English/without subtitles,
- sound:2ch/5.1ch
- DVD is NTSC, region-free.(You can watch this DVD with PC)
- DVD and Blu-ray have the following privilege movie.
Trailer(Japanese/English), Guidance the screening by Yuzuki Yukari, Making of the film.
-You can download a movie brochure PDF(including translated) from a URL which is written on the back side of disc package.

- Overseas shipment is available by AHS Co.Ltd.
The guide for purchase from the foreign countries is here.

*AHS Blu-ray purchase page \5,184
*AHS DVD purchase page \3,780

VOCALOID Opera AOI with Bunraku Puppets, Download sales
- The download version does not include a making of.
- The download version will be sold only in a site of AHS Co.Ltd.
- The price is \1900 each.

28 languages and 45 currencies are available to purchase!
*Download page of Japanese Sub version
*Download page of English Sub version
*Download page of No Sub version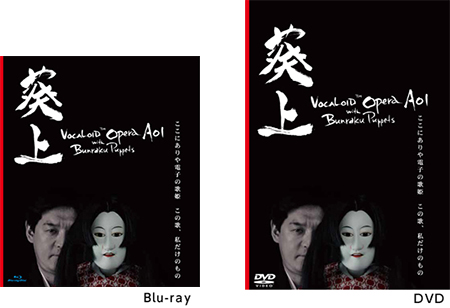 ---
Sound Track has released!
We started sale by iTunes
Side-by-side translation of the lyrics is here
---
<2015/April/17>Media Release

We begin to sell DVD and Blu-ray for Japan from May/21/2015, and the downloading sale also starts for foreign countries, too.
Details will be announced once they are confirmed through this page, Facebook, and Twitter. Stay tuned!

Media release
and
Sale reservation page
by AHS co, Ltd. (in Japanese).